Bulgari announced the achievement of the ambitious goal of more than 20 million US$ (16 million euro) raised for Save the Children in four years, a sum that by far surpasses the objective established when the partnership was founded in 2009.
The main reason for this huge success is the record-breaking sales of the silver and ceramic ring created specially by Bulgari for Save the Children.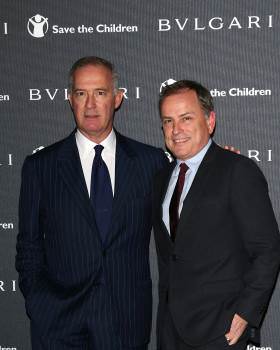 Francesco Trapani & Michael Burke
Speakers of the conference were Francesco Trapani (President and CEO of the Jewellery and Watches Division of the LVMH Group), Michael Burke (CEO of Bulgari), Claudio Tesauro (President of Save the Children Italia and member of the Executive Board of Save the Children International), Jasmine Whitbread (President of Save the Children International) and famed photographer Fabrizio Ferri. During the press conference CEO Michael Burke announced that Chinese film actress Zhang Ziyi has been appointed International Ambassador of the successful Bulgari & Save the Children partnership. Zhang Ziyi has starred in a number of Chinese and English language award-winning films, including Crouching Tiger, Hidden Dragon, House of Flying Daggers, Memoirs of a Geisha, 2046 and is the leading actress in Wong Kar Wai's new masterpiece "The Grandmasters". A passionate supporter of the Bulgari and Save the Children project, in the past she has also been engaged with local initiatives aiming to relieve hardship, distress and sickness in orphaned children in China. In the wake of the actions carried out so far, she will actively support the Bulgari and Save the Children education projects while being involved in communication activities and field trip all around the world.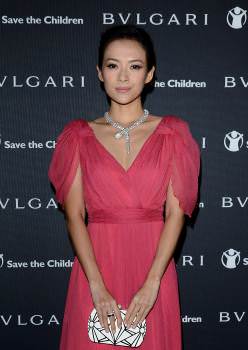 To celebrate this important achievement and to document the results thus far, Bulgari organised, in the magical setting of the 16th-century Palazzo Pecci Blunt, a collection of photographs and videos created by Fabrizio Ferri. The exhibition, entitled "Stop. Think. Give.", assembles all the intense photos shot by Ferri from 2009 to present. The intense shots show celebrities wearing and 'interpreting' the ring, or interacting with the children during field trips organised over the years by Bulgari and save the Children.

Over 1300 guests attended the opening event, noteworthy among whom are Adrien Brody, Stephen Dorff, Zhang Ziyi, Donnie Yen, Shu Pei Qin, Su Youpeng, Li Xiaoran, Zhao Tao, Isabella Ferrari, Paul Haggis, Harvey Weinstein, Eva Riccobono, Livia Firth, Andrea Osvart, Catrinel Marlon, Jordi Mollà, Katheryn Winnick and Matteo Garrone.
Inspired by the iconic B.zero1 line, the distinctive ring in silver and ceramic was launched in October 2010 and continues to be available in Bulgari shops worldwide, in select department stores and on the Bulgari website (active in the US and Japan). For each ring sold at a price of 390 euro (420 US$), 70 euro (90 US$) are donated to Save the Children. After nearly 4 years, the partnership between Bulgari and Save the Children has grown into a solid and long-term partnership.