As a meeting place, Samarkand was throughout the centuries a hub of cultures : Greek, Persian, Turkish,Chinese,Mongolian, European, Russian stood side by side, to exchange ideas and goods. From Alexander the Great to Genghis Khan, Samarkand has been enriched by architectural treasures and craft skills recognized throughout the world.This effervescence provides a source of inspiration that gave birth to the new collection Mathon Paris: Samarcande.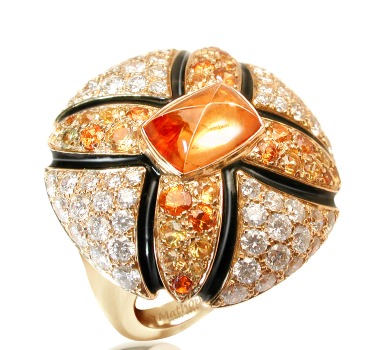 Carved portals, richly decorated mausoleums, glazed ceramics or calligraphy, the all spirit of Samarkand is in this new collection. Sugar loaf of tanzanite or spessartite garnet evokes the dome of palaces and mosques. In the white gold model, tanzanite is sharpened by a blue sapphires paving, recalling the shades of glazed ceramic tiles. Yellow and amber sapphires highlighted by black lacquer come with the spessartite garnet on the yellow gold version, which reflects the oriental taste for goldsmith with black enamel. The red gold ring with its pink sapphires mix and plum lacquer evokes the famous fabrics and carpets from the area. The reverse side of each ring is finely perforated and underlined with lacquer, recalling the Moorish goldsmith and Islamic ceramics.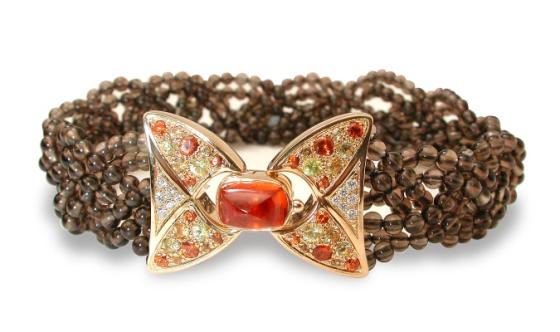 Samarkand bracelet consists of a pattern-set clasp and a richly braided beads of semi-precious. Original and colourful, this bracelet elegantly fits the wrist. The ingenious plays on the contrasts of colours and materials sourced from all around the world,like the snakewood. It also makes it easy to change the braid of gemstones,to offer a unique combination of colours.