Alice Sunderland, the jewellery brand to crown Everlasting Moments, is making a very special announcement this summer. The centrepiece of the international jewellery brand is growing in popularity; therefore Alice Sunderland has designed a limited edition of the popular calendar yearring.

The limited edition calendar yearring is a highly exclusive version of the beautiful calendar yearring. The days of the year are represented by 5 carat high quality pink diamonds, put in an 18 carat rose gold ring. Pink diamonds are rare in nature and therefore belong to one of the most precious and most exclusive diamond types. Alice Sunderland has only used untreated diamonds with a high colour intensity, which makes this already special ring even more exclusive. The Everlasting Moment of the carrier will be immortalised with a white diamond. With 364 pink diamonds in a ring, this limited edition calendar yearring is the most exclusive and unique calendar yearring ever!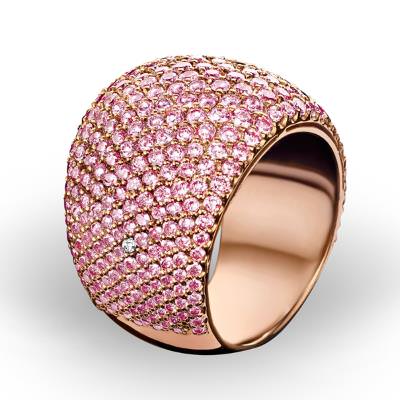 Alice Sunderland about the limited edition calendar yearring: "This is a very special way to always carry your Everlasting Moment with you".
The price of the ring is €115.000. The limited edition calendar yearring is exclusively available at Alice Sunderland and affiliated jewellers.
About Alice in Sunderland
Alice Sunderland is a high-end jewellery brand, also known from the Everlasting Moments collection. The top piece from the collection is the calendar yearring, a ring with 365 diamonds, one for each day of the year. A special moment can be marked by the addition of a coloured diamond for a special moment.