Diamond Dimensions Ltd., a new diamond venture in Israel, is introducing several unique patented diamond cuts based on the Cross and Lotus shapes, that they say "meet the demand for something new in diamond design."
In addition to these shapes, Diamond Dimensions is offering jewelers, jewelry manufacturers and designers the opportunity to have their own designs translated into unique black or white diamond gems.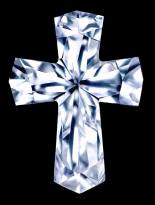 Cross Cut - Brilliant
The Cross Cut ® interprets the eternal symbol of Christianity in five different designs — Brilliant, Classic, Gothic, Lotus and Step. It is cut from a single rough diamond and has between 29 – 72 facets. The Lotus Cut ®, based on the shape of a lotus flower, symbolizes spiritual enlightenment in cultures around the world. It is available in two designs with either three leaves or four leaves. It is also cut from a single rough diamond and has between 57 – 72 facets.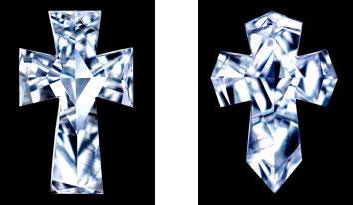 Cross Cut – Classic & Gothic
In addition, the company allows customers to create their own designs with Personal Diamonds. Clients can take any image or symbol — including initials, numbers, logos, zodiac signs or other shapes — and have it transformed it into a diamond. The unique shapes are created from a simple sketch by master diamond craftsmen who use sophisticated design software systems. They are all cut from a single rough diamond and are manufactured in the company's diamond polishing facility in Israel.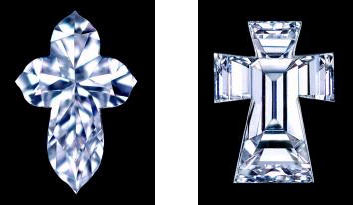 Cross Cut – Lotus & Step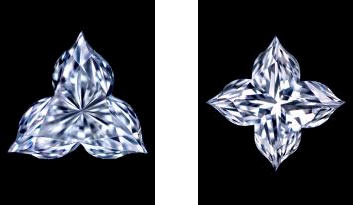 Lotus Cut 3 Leaves & Lotus Cut 4 Leaves
The new company, Diamond Dimensions, was founded by two Israeli diamond veterans – Yoram Bernstein of Z. Y. Bernstein Ltd. and Ruby Gersh of RGS Diamonds Ltd. Each of them has between 30 and 40 years experience in polishing and marketing loose diamonds. The new venture has a specific vision – to introduce a new and innovative spirit into the world of diamonds. They say that they answer the demand for "out of the box" designs by taking diamonds "out of the circle".
"Our products are for people who love diamonds and seek other dimensions. What we are offering is Diamond Sculpting – a term we invented to combine the beauty and elegance of a diamond with the world of fashion and art," says Ruby Gersh.
Gersh and Bernstein emphasize that they want to make diamonds both fashionable and affordable. By offering all of the products – Cross Cut®, Lotus Cut ® and Personal Diamonds in either white or black diamonds, the company says that they are greatly expanding the price range as well as their accessibility to a wide range of customers.
"Our new products have two very important advantages," says Yoram Bernstein, "they are unique 'conversation pieces' and they have a very affordable price tag."
For more information about these new diamond shapes see www.diamonds-dimensions.com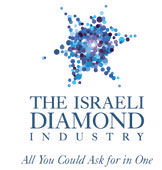 Contact: [email protected]