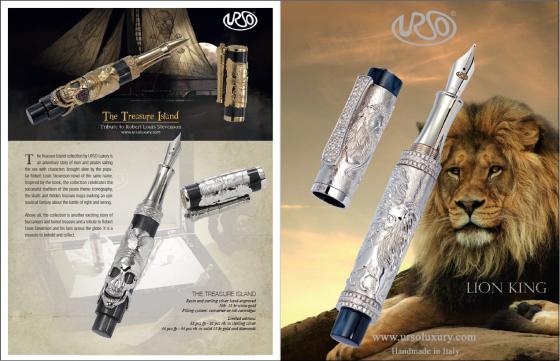 Click on the images to enlarge
THE TREASURE ISLAND
The Treasure Island collection by Urso Luxury is an adventure story of men and pirates sailing the sea with characters brought alive by the popular Robert Louis Stevenson novel of the same name.
THE TREASURE ISLAND - Resin and sterling silver hand-engraved Nib: 18 kt white gold Filling system: converter or ink cartridges Limited editions 88 pcs fp - 88 pcs rb. in sterling silver 44 pcs fp - 44 pcs rb. in solid 18 kt gold and diamonds
Inspired by the book, the collection celebrates the successful tradition of the pirate theme iconography, the skulls and hidden treasure maps evoking an epic nautical fantasy about the battle of right and wrong.
Above all, the collection is another exciting story of buccaneers and buried treasure and a tribute to Robert Louis Stevenson and his fans across the globe. It is a treasure to behold and collect.
LION KING
Urso presents its Lion King collection. Strength and pride are the characteristics which give him the title of The King of the Animals.
LION KING - Fountain Pen In White solid gold 18kt and diamonds
Majestic is the adjective that best suits his shape and his royal gait. Always men have been fascinated by this noble animal whose figure has influenced literature, architecture and visual arts. We recognize in him features of courage fundamental to his existence, not so common in the mankind.
Quoting a famous African saying: "...every morning in Africa, as the sun rises, no matter whether you are a lion or gazelle, the important thing is that you start to run."