Christie's International, the global auction leader, announces the largest cushion-shaped Fancy Vivid Pink diamond to be offered for sale at auction, continuing the firm's long tradition of presenting extraordinary jewels to the global market. The 16.08 carat stone is estimated at US$23-28 million and will be featured in Christie's flagship Magnificent Jewels auction on November 10, 2015 in Geneva.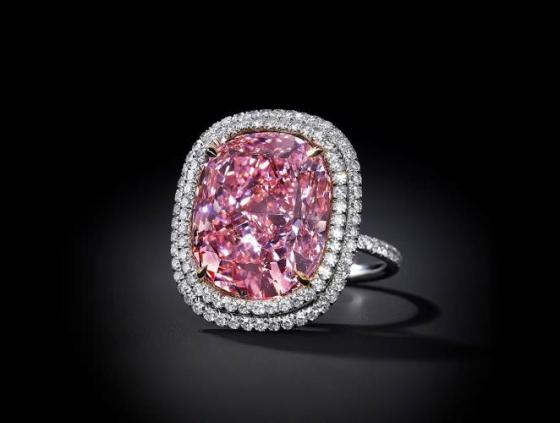 The diamond is set as a ring, with a double row of pavé-set white diamonds which surround and highlight the main stone, with a third row of small pink diamonds underneath. The band is comprised of small circular-cut white diamonds set in platinum.
October marks the start of an international tour of the diamond to Christie's locations around the world, starting with Hong Kong, and continuing to New York and London prior to the exhibition and sale in Geneva.
In the realm of natural colored diamonds, those of a distinct pink hue are the most sought-after among gem connoisseurs. While most pink diamonds exhibit a color modifier like purple, orange, brown or grey, the 16.08 carat diamond to be offered at Christie's shows absolutely no trace of a secondary color, making it exceedingly rare and attractive. In addition the 16.08 carat Fancy Vivid Pink diamond classifies as a Type IIa diamond, which contains little if any nitrogen and accounts for less than 2 percent of all gem diamonds. The stone's even color distribution, combined with a balanced saturation and tone and straight pink hue, qualify the 16.08 carat pink for the coveted 'Fancy Vivid' color grading from the Gemological Institute of America (GIA). That only one in one hundred thousand diamonds possesses a color deep enough to qualify as 'Fancy' underscores its absolute rarity.