Christie's upcoming auction of Magnificent Jewels will take place on 13 November at the Four Seasons Hotel des Bergues, where over 300 exceptional jewels await collectors from around the globe.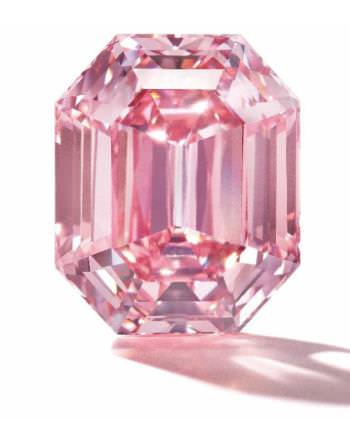 Incomparable diamonds, gemstones and pearls will lead this autumn season, with a focus on signed pieces by the Jewellery masters of the past 200 years, including three pieces by the renowned contemporary master JAR. The Pink Legacy, the largest and finest Fancy Vivid Pink diamond ever offered at auction by the company, will highlight the Luxury Week in Geneva. Weighing just under 19 carats (18.96 carats), this exceptional rectangular-cut, unrivaled pink diamond, has descended from the Oppenheimer Family and is estimated at CHF/US$ 30 to 50 million.
Blue and white
Sapphires and diamonds set in platinum or white gold are a great match, either as rings, bracelets, brooches, earrings or tiaras. The exceptional sapphire and diamond earrings by David Morris are one such example, made of two step-cut sapphires of 40.29 and 38.60 carats suspended by circular-cut white diamonds (estimate CHF/US$1,200,000-1,800,000-illustrated below left). The signature design of the panther by Cartier is particularly expressive when set in diamonds and onyx as illustrated below centre (estimate: CHF/US$150,000-250,000). Several other blue and white themed jewels include an attractive cushion-shaped sapphire of 16.33 carats set as a ring between triangular-shaped and circular-cut diamonds (estimate: CHF/US$1,400,000-2,400,000-illustrated below right) and a 7.83 carat Kashmir sapphire set between baguette-cut diamonds (estimate: CHF/US$400,000-600,000 – not illustrated).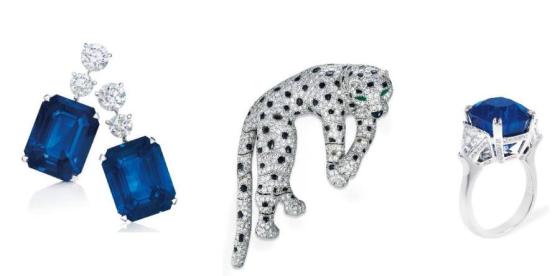 A truly special piece is the steel and diamond tiara, signed by Cartier, 1912-1915. Additionally, it bears the maker's mark of Henri Picq, who was responsible for some of the most exceptional jewellery made by Cartier at the beginning of the 20th century. This tiara was not only designed by one of the greatest Maisons of all time, but was also crafted by one of the best workshops in the world during that period (estimate: CHF/US$350,000-500,000).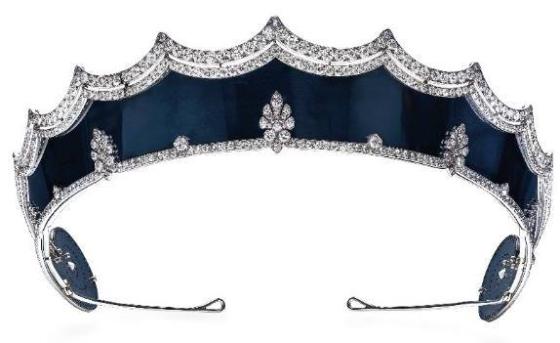 Signed by the most prestigious houses
The extensive selection of signed jewels is led by a stunning multi-gem Egyptian revival pendent sautoir by Van Cleef & Arpels, created in 1924 (estimate: CHF/US$2,000,000-3,000,000). Jewellery production in the first quarter of this century, particularly in the years just after the discovery of Tutankhamun's tomb, was marked by a prevailing Egyptomania.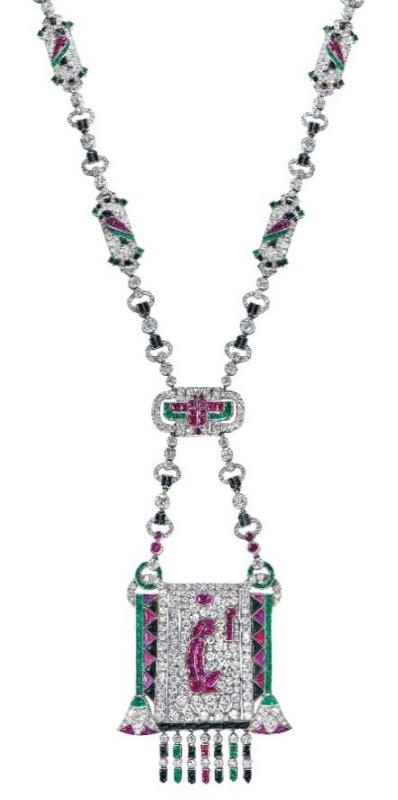 Three exceptional jewels by JAR have been bought by their present owners directly from the atelier at Place Vendome in Paris and will be offered for the first time at auction. Seen only once before in public at the Somerset House exhibition "Jewels of JAR", from November 2002 to January 2003 in London, these pieces have had a secret life. The spectacular multi-gem Bouquet of violets brooch was created in 1993 and includes pink tourmalines, rubies, sapphires, coloured as well as colourless diamonds, green garnets and tanzanites (estimate: CHF/US$800,000-1,200,000 ). The butterfly brooch dates from 1990 and carries an estimate of CHF/US$400,000-600,000). The Ivy Leaves earrings, created a year later, are set with single-cut diamonds in silver and gold (estimate: CHF/US$400,000-600,000).

The Most Famous Pearls of the 20th Century
A magnificent pearl necklace became internationally famous at the beginning of the 20th century. Its history involves one of the best jewellery houses in the world, famous industrialists as well as the rumour of an Imperial provenance(estimate: CHF/US$600,000-800,000).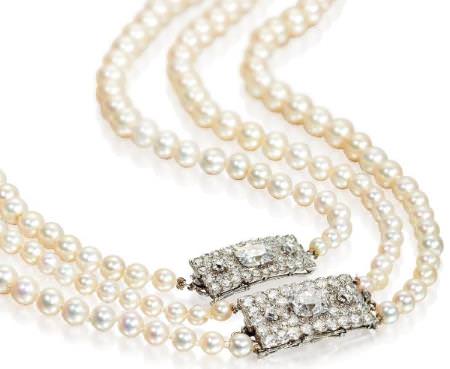 The pearl necklace was accompanied by three clasps: two were diamond-set by Cartier and an 18th century enamel miniature clasp depicting Catherine the Great. After conducting exhaustive research as to the Imperial provenance of the necklace, Horace Dodge finally agreed to the purchase for the immense sum of US$825,000, approximately US$70,000,000 in today's money. It was amongst the most expensive jewellery transactions ever recorded.
Fashionable White with a Hint of Colour

The auction on 13 November will offer an array of jewels designed around the greatest stone – the diamond. An outstanding selection of earrings will be presented, including, two rectangular-cut cornered diamonds of 10.88 and 10.88 carats (estimate: CHF/US$1,600,000-2,500,000 - illustrated below second from the left)) and a pair of superb coloured diamond earrings, one a fancy blue pear modified brilliant-cut diamond of 8.85 carats and the other a fancy orangey pink pear modified brilliant-cut diamond of 8.79 carats. Another highlight of this section is a superb heart-shaped brilliant-cut diamond pendant of 53.53 carats (estimate: CHF/US$ 3,250,000–5,250,000 ).