F
rom the day Sophia Loren cut the ribbon on his first small boutique in Geneva, Fawaz Gruosi fulfilled his destiny. Flirting with a touchof baroque and extravagance, his drawings venture wherever his imagination and his pencil take him.
Yet, the freedom of his action in no way restricts the insight of his view on his time. On the contrary, at the dawn of the new millennium, the designer is already adopting a counter-current vision. His jewellery, with its voluptuous lines, whose opulent volumesengage with a blend of shimmering colours, exude feminine empowerment.
In 2020, a new chapter began with the launch of the Fawaz Gruosi house. The opening of a London boutique in Berkeley Square is the culmination of colourful creativity that is nourished by unchanged precepts. The emotion born out of the encounter between the designer and the precious stones is the house's primary foundation. In the jewellery language that Fawaz Gruosi invents, each gem has its place.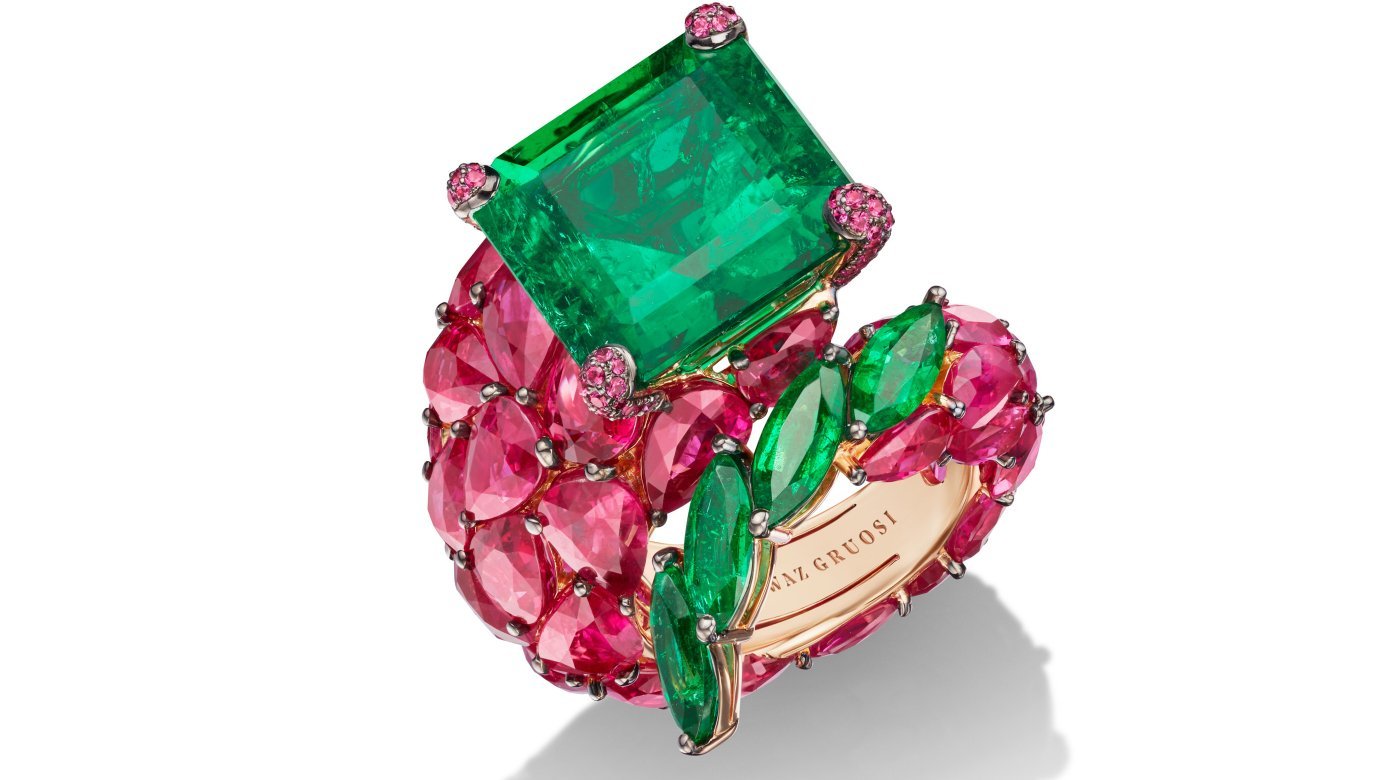 Beauty, colour and personality take precedence over value. Only those gems that can inspire and seduce have the right to enter his workshop. "I want to create jewellery that is as emotional for the wearer as it is for the viewer." The new high jewellery creations confirm this. Like this reptilian ring with a 15.04-carat square-cut Colombian emerald of dense velvety green set on a ruby body.
Fond of unexpected combinations of colours and materials, Fawaz Gruosi dreams up a pair of earrings juxtaposing the geometric lines of classic jewellery-making with the fluid shapes of surrealistic inspiration. Two imposing emeralds with angular geometric lines hold a set of two organically shaped asymmetrical flat rings in white ceramic increasing in size interposed by a third one paved with emeralds of different sizes.
The extreme vigilance on the traceability of the stones is combined with the high standards of the selection criteria. Observed under the light of the north, which reveals the most beautiful crystallisations, narrative-rich emeralds thus compose true manifestos of femininity. Deceptively classic, a pair of graphic earrings indulge in asymmetry.
A classic question mark necklace is revisited with an ultracontemporary twist. It is composed of a diamond snake entwined with a second emerald snake surmounted by a quintet of emeralds. In another necklace, like precious lava setting fire to the décolleté, a flow of diamonds calls forth forty-four sumptuously paired Zambian emeralds totalling 87.65 carats.
Chosen by the designer for the delicacy of their blue with just a hint of violet, two unheated Ceylon sapphires cut in a cushion shape sign the girandoles of the third millennium.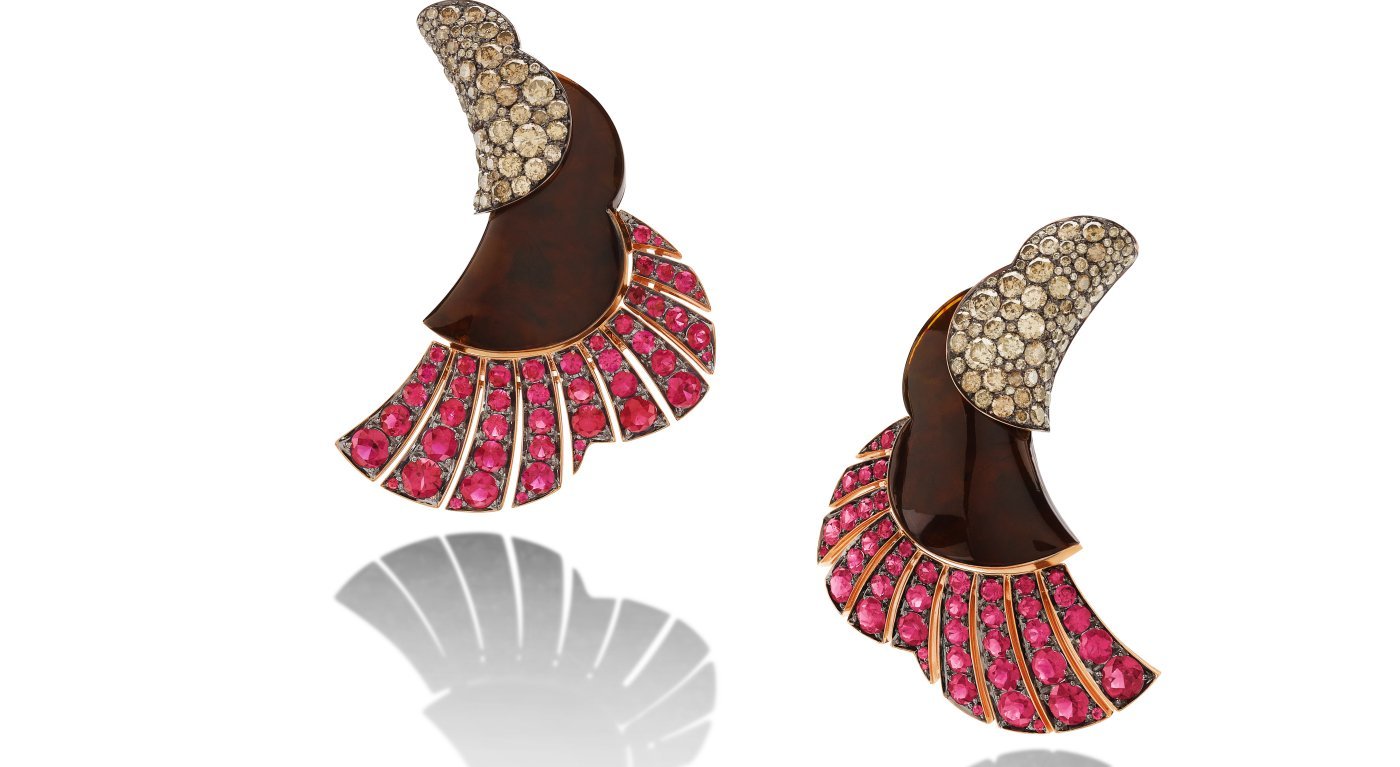 Open to any stone, however unorthodox, that tantalises his imagination, Fawaz Gruosi welcomes amber to his high jewellery creations. The first precious material known to man, the organic gemstone that the Pharaohs willingly adorned themselves with, amber infuses jewels with honeyed tones. From the shores of the Baltic, amber of the finest quality is chiselled into cabochons and drops before being enriched with gold motifs set with diamonds. On a ring with a caressing roundness, the auburn nuances of amber are combined with a 9.75-carat Ceylon sapphire, or become the stage of a dance of pear-cut diamonds.
A lover of colour, Fawaz Gruosi excels in the most daring combinations, giving a look an extra touch of panache. Like this bracelet, which combines two blue sapphires totalling 121.62 carats with 153.10 carats of pink sapphires contrasted with emerald baguettes, as a testament to his audacity.
Or this ring with an architectural ascension of baguettes-cut sapphires and spirals of emeralds. Highlighted by a subtle play of voids, the sapphire and emerald duo also sets off this ring topped with a captivating 27.33-carat Ceylon sapphire.
Another piece draws a precious interlacing on which two emeralds rest to reveal their glow. Enveloped by a black ceramic ribbon, a 12.18-carat Zambian emerald oozes its brio on a mischievously asymmetrical ring.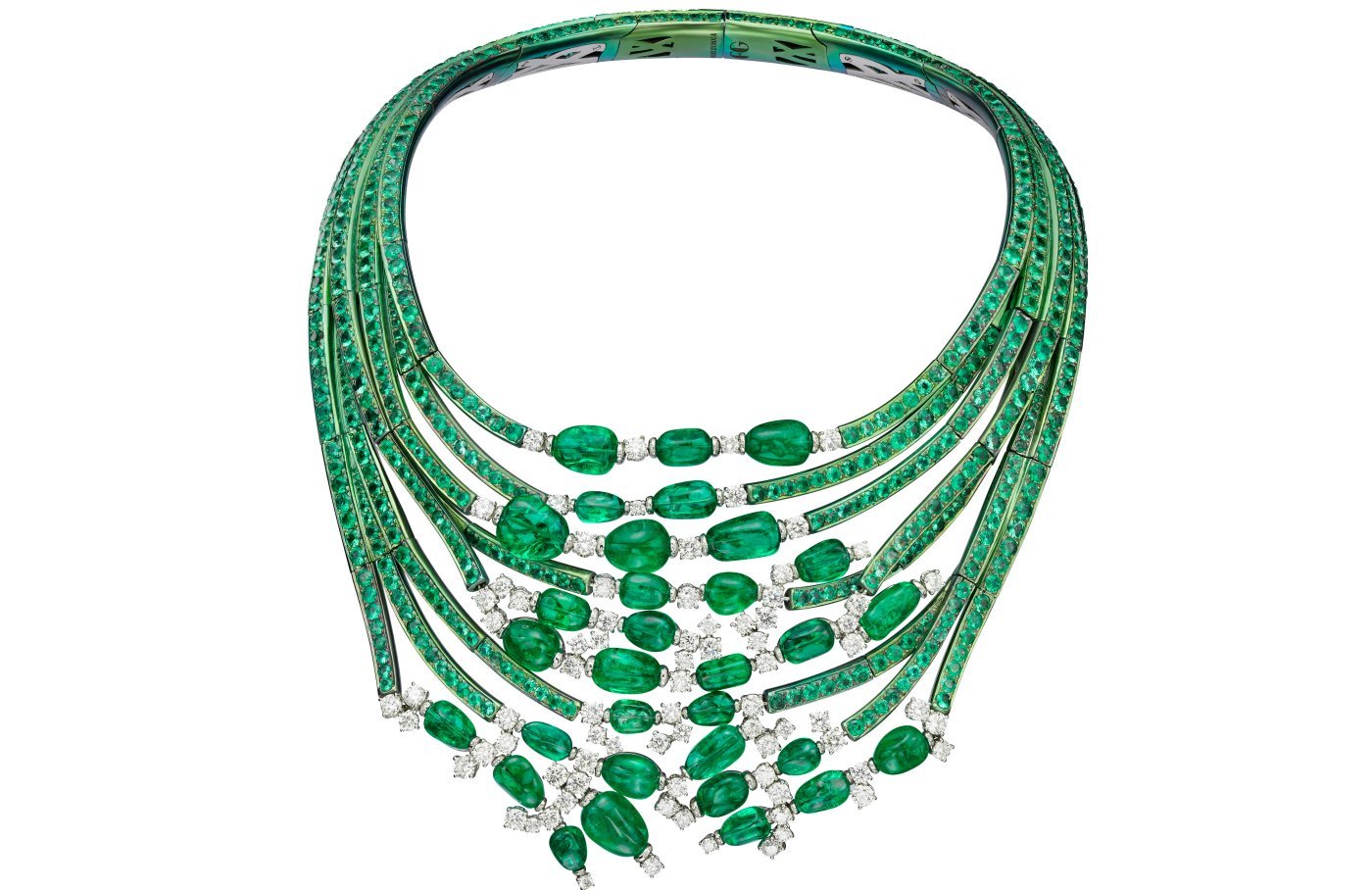 Prodigal by nature, Fawaz Gruosi infuses his creative generosity into his jewels, whose volumes combine strength and sensuality, expressing empowerment and glamour. A bracelet made of deep red waves of Burmese baguette-cut rubies and brilliant-cut rubies of completely homogenous colour crowns the wrist like an incandescent sunset.
A ball ring juxtaposes pink opal sprinkled with marquise-cut diamonds, and thirty-one emerald cabochons which evoke a generous bloom.
Strong volumes also characterise this ring with two pink gold spirals paved with diamonds crossed by a ribbon of delectable rubies.