T
he appointment of Benjamin Comar as head of Piaget was discreetly done. He replaced Chabi Nouri on 1 June 2021. Aside from graciously acknowledging the work done by his predecessors, when the brand was awarded the Mechanical Exception Prize for the Altiplano Ultimate Automatic at the Grand Prix d'Horlogerie de Genève (GPHG) last November, he has been busy implementing his strategy.
Piaget, which is owned by Richemont, does not divulge figures. What we do know, however, is that the group as a whole achieved excellent results in 2021. In the third quarter of 2021 alone, Richemont recorded a turnover of 5.88 billion crease of 35% (32% excluding exchange rate effects). Growth was particularly strong in the United States and Europe.
Benjamin Comar, CEO of Piaget since June 2021
Piaget, which has a high-end watch and jewellery offer, seems perfectly positioned to face the years ahead. According to the latest study by McKinsey and Business of Fashion, the fine jewellery sector could experience annual growth rates of 8 to 12% by 2025, while watchmaking is expected to grow by 1 to 3%. But despite a history dating back to 1874, tremendous creativity and a very high-quality jewellery offering, the brand has not achieved the public recognition it deserves. Perhaps it has too many watch lines to be immediately identifiable?
In the film The 355, released last January, all the watches and jewellery worn by the actors were signed by Piaget.
To help Piaget take its rightful place in the spot- light, Benjamin Comar will focus his attention on the brand's most iconic pieces – the Polo, Altiplano and Gala models – and on all the elements that set Piaget apart, such as creative cuff watches and watches with mineral dials. In January, brand awareness was boosted by the launch of the film The 355; all the watches and jewellery worn by the actors, including Jessica Chastain, Penelope Cruz, Bingbing Fan, Diane Kruger and Lupita Nyong'o, were signed by Piaget.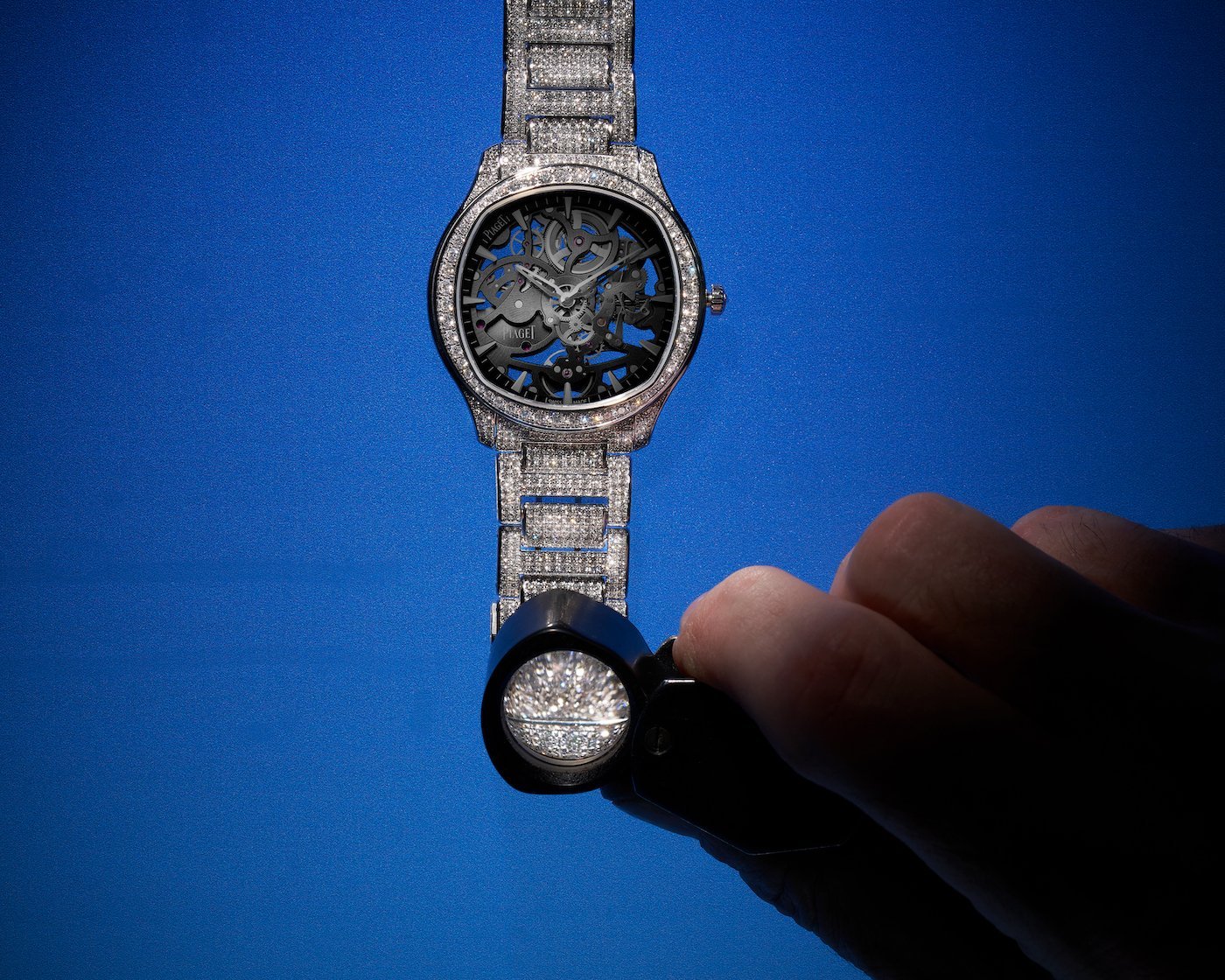 Europa Star: You spent 12 years at Cartier; you were the international director of Chanel jewellery and CEO of Repossi. That's a lot of expertise in jewellery. Does this mean Piaget will strengthen its jewellery division?
Benjamin Comar: It's true that I have worked more in the field of jewellery, but at Chanel I also managed precious watches. Jewellery has developed a lot at Piaget in recent years under the impetus of Chabi Nouri (the previous CEO). More and more brands are interested in both segments, and we are trying to offer our own vision of these two worlds.
A new one-off version of the Altiplano Ultimate Concept
Historically, Piaget has always been a pioneer in watchmaking, with the 9P movement and the quest for extra- thin back in 1957, the boldness of its jewellery watches starting in 1959, quartz with the 7P movement developed in 1976... Yet today Piaget is underperforming on the secondary market. How do you explain this?
The craze for second-hand watches concerns mainly sporty, masculine, steel models. We have worked a lot on our men's offer in recent years, and we received the Mechanical Exception prize for the Altiplano Ultimate Automatic at the last GPHG, but we mostly manufacture top-of-the-range jewellery watches for women. And our goal is not to produce in quantity.
"Piaget is all about "extraleganza", a mixture of elegance and extravagance."
Limelight Gala jewellery watch
Given your immense expertise and long history, brand awareness could be higher, don't you agree?
It's a brand for insiders. More and more connoisseurs are becoming interested. Piaget has incredible know-how, it has created jewellery watches since 1959! The brand has a unique positioning. Yves Piaget told me that when he was running the brand, he felt a need to break out; he therefore created extravagant models to differentiate himself. He had panache, and that is the identity of Piaget: daring to do different things that appeal to a clientele of connoisseurs.
Piaget's Limelight Gala collection draws inspiration from the 1970s, when the brand started creating jewellery watches with extended lugs. Pictured here is the new Limelight Gala Aventurine, whose 32mm white gold case is adorned with swirls of 62 diamonds.
Have there been too many different watch models?
There have been many lines, yes, but at the moment we are refocusing on the three main ones: Polo, Altiplano and Gala. For me, the Gala is the jewellery watch par excellence: it represents the extravagance and elegance of Piaget, with an average price of 30,000 euros. As for the Altiplano, it is a very high-end watch and it must remain so. There is also the Possession watch, but it is linked to a jewellery line.
"At the moment we are refocusing on the three main lines: Polo, Altiplano and Gala."
Piaget Polo Skeleton
Piaget has a treasure trove of creativity, including cuff watches. Do you intend to relaunch or strengthen the positioning of certain icons, such as the cuffs, the Piaget Polo watch, or the models with stone dials?
I'm interested in the exuberant and flamboyant side of the brand. The cuffs are fantastic! I really like the use of minerals and semi-precious stones. Piaget was a pioneer in this field. Piaget is all about "extraleganza", a mixture of elegance and extravagance.
The 1200S1 calibre that equips the new Piaget Polo Skeleton is not only skeletonised, it is also ultra-thin at only 2.4mm.
The latest McKinsey/BOF report estimates that the jewellery sector will grow between 8 and 12% by 2025. What is Piaget's growth potential?
It's considerable. In jewellery we are fortunate to have recognised products and genuine expertise in gold. This allows us to offer a different point of view. There are several reasons for the overall growth potential of jewellery. In recent years, buying behaviour has changed a lot: women are buying jewellery for themselves, whereas before it was mainly a celebration gift. Another phenomenon is the increasing price of apparel, certain clothes and leather goods. Jewellery is becoming much more affordable in comparison. Some handbags now cost more than 15,000 Swiss francs, and for that price you can buy a beautiful piece of jewellery. People are treating themselves to a dream, with a durable, transmissible and emotionally charged product.